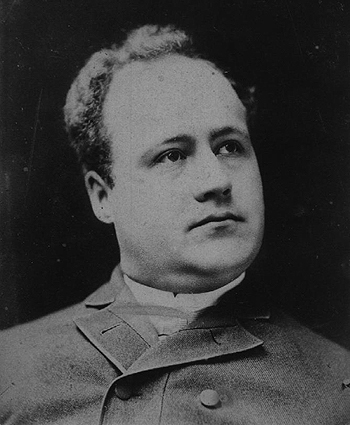 Edward Kimball
Edward Kimball (July 29, 1823 - June 5, 1901) was born in Rowley, Massachusetts, and in 1846 moved to Boston, where he became head of a carpet supplier firm called Kimball, Felt, & Wentworth. While there, he joined the Mount Vernon Congregational Church, where he served as a Sunday School teacher.
There were many teenage boys in Kimball's class, including a young man named Dwight L. Moody. To keep the 17-year-old out of mischief, Moody was required to attend this church by his uncle, Samuel Holton, as a condition of employment at his retail shoe store.
Though Kimball was friendly and kind to Moody, he was not confident that he would become a Christian. However, after having Moody as a student for about a year, Kimball was moved to visit him at his workplace. As Kimball talked with Moody in the stockroom about the love God had for him, he led him to believe the gospel and place his full trust in Jesus Christ.
In The Life of Dwight L. Moody by His Son (William R. Moody, 1900), Kimball said of Moody:
"I can truly say, and in saying it I magnify the infinite grace of God as bestowed upon him, that I have seen few persons whose minds were spiritually darker than was his when he came into my Sunday School class; and I think that the committee of the Mount Vernon Church seldom met an applicant for membership more unlikely ever to become a Christian of clear and decided views of Gospel truth, still less to fill any extended sphere of public usefulness."
God used one faithful Sunday School teacher to make a great difference in the life of Moody, who eventually went on to become one of the greatest evangelists of the 19th century, credited with leading millions of people worldwide to faith in Jesus Christ. This godly legacy continues today through his books, The Moody Church, and the Moody Bible Institute, both in Chicago, Illinois.
It was a time of distress in Israel, for the Philistines dominated and oppressed the people (1 Samuel 13-14:1-23). Shortly after Saul had been declared king (1050 BC), he declared his rebellion against Philistine rule by attacking and defeating their garrison in Geba through his son Jonathan. In response, the Philistines gathered an overwhelming force to punish Israel and put the people back into their place of weakness and servitude.
The hearts of King Saul's soldiers quailed when they saw the multitudes of their enemy coming against them. Many of them hid themselves anywhere they could (e.g., caves, thickets, holes in the ground), and some even deserted to the Philistines.
But Jonathan, trusting God, decided to seek out a Philistine stronghold at a strategic location. He told his armorbearer, "Come and let us cross over to the garrison of these uncircumcised; perhaps the LORD will work for us, for the LORD is not restrained to save by many or by few." (1 Samuel 14:6)
Jonathan took it as a sign of the Lord's guidance that when the Philistines called for them to come up to fight them, the Lord would grant him victory. His defeat of the stronghold turned the tables on the Philistines and encouraged the rest of Israel's soldiers to come out of hiding to fight. Even the men of Israel who had deserted to the Philistines turned to fight them.
God honored one man's faith in Him and brought about a great deliverance for Israel by causing dismay and confusion in the hearts of their enemies so that they attacked each other, terrifying them with a powerful earthquake, and giving Israel's army the courage to fight and defeat a much larger foe with better weapons.
The story of the penitent thief crucified next to Jesus has been told for nearly two thousand years (Luke 23:39-43). It can be imagined that when the redeemed appear before the judgment seat of Christ to give an account of their lives to Him (1 Corinthians 3:10-15; 2 Corinthians 5:10) and receive a reward, he may stand afar off to the side somewhere, thinking that he would have no reward since he believed in Jesus and had no opportunity for service to Him.
But the Lord Jesus may call him over and show the impact the story of the last moments of his life had on those who heard it and how it provided the hope that anyone who recognizes his sinful state and need for a Savior, no matter the number of sins or their seriousness, as long as there is life, it is not too late to repent and receive full forgiveness and entrance into His eternal kingdom.
God used the story of one repentant dying criminal to make a great difference in the lives of uncounted multitudes through the centuries by encouraging them, even in the uttermost dire circumstances, to place their hope and trust in His Son Jesus. In a scene in the 2000 movie Gladiator, Roman general Maximus Decimus Meridius addressed his troops before battle. He encouraged them with the words, "What we do in life echoes in eternity."
Jesus was the One who made the greatest difference in the world through His perfect life, death on the cross for sinners, and resurrection from the dead. His sacrifice reconciles all who trust in Him to God (Romans 5; 2 Corinthians 5:17-20). Jesus is the way, the truth, the source of eternal life, and the only Mediator between God and man (John 3:16-18, 14:6; 1 Timothy 2:5-6).
The fruit borne by what Jesus did on earth echoes into eternity in the great uncounted multitude "from every nation and all tribes and peoples and tongues" loving Him, worshiping Him, and enjoying His fellowship (Revelation 7:9-17).
Take every opportunity to share the gospel with those you encounter in life. You can make an eternal difference in the life of someone who needs forgiveness and salvation.